Vertical ridges in fingernails: causes, aging & health!

- Vertical ridges in fingernails -
NAIL RIDGES: CAUSES, AGING & HEALTH VARIATIONS!
March 31, 2012
Vertical ridges in fingernails concern usually a harmless issue, because eventually as we grow older everybody develops a few vertical ridges. Vertical nail ridges origin from the anatomy of the nail apparatus (contrary to 'horizontal ridges' - which have a strong connection with physical trauma & disease).
However, sometimes the vertical ridges can become unusually pronounced featured with irregularities, and especially when other nail abnormalities get noticed as well then the unusual vertical nail ridge variants can signal (life threatening) health problems!
This article explains why the nails in most people are featured with smooth shaped vertical ridges that become more pronounced due to aging. And additionally some guidelines are presented in order to discriminate normal vertical nail ridges from the pathological variants.
- Vertical nail ridges & anatomy of the nail apparatus -
The picture above present a transversal slide of the nail bed (histology of the nail apparatus) which displays papillae rising from the nail bed corum - which correspond with the normal ridges in the undersurface of the nail plate (see picture below).
During the process of aging the vertical ridges become more manifest in the surface of the nail plate due to the thinning proces of the nail plate in elderly - which can best be understood as a process that parallels the rimpling of the skin!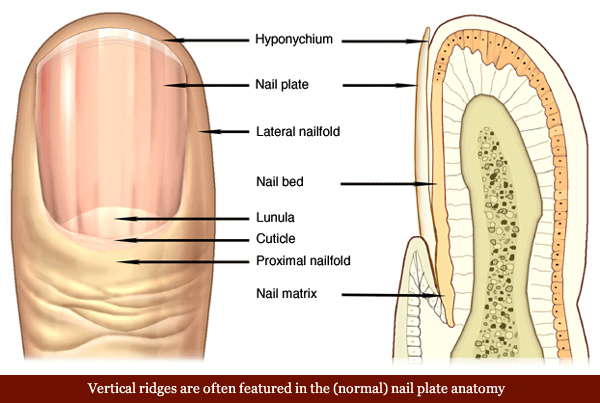 VERTICAL NAIL RIDGES IN CHILDREN & YOUNG ADULTS
In children & young adults often appear to be missing, however at a closer look (and a proper light source) one can usually notice with bare eyes that all nails have vertical ridges. When vertical ridges appear to be missing this can often be perceived as a healthy characteristic. When the nail is also smooth, shiny, pink colored plus featured with a nail moon (lunula) this might reveal stable health during the past 6 months (3 months in children, 8 months in elderly).
The picture below displays 3 examples of vertical ridge variants within the normal range (healthy adults).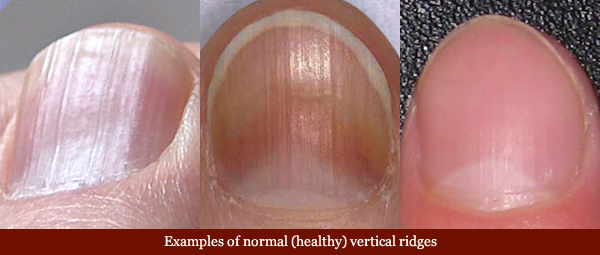 VERTICAL NAIL RIDGES IN THE ELDERLY
Fingernails in the elderly usually show the presence of pronounced vertical ridges - e.g. due to the thinning of the nail plate or possibly due to variations in cell turnover within the nail. In the elderly the vertical ridges are often also featured with small color variations in the ridges (especially at the outer edge of the nail).
Brittle nails (onychorrhexis) and splitting nails (onychoschizia) is typically more often seen in the elderly, but these are usually caused by biological process that relate to fingernail cholesterol sulfate levels. So, often these features are not indicative for health related problems in terms of disease.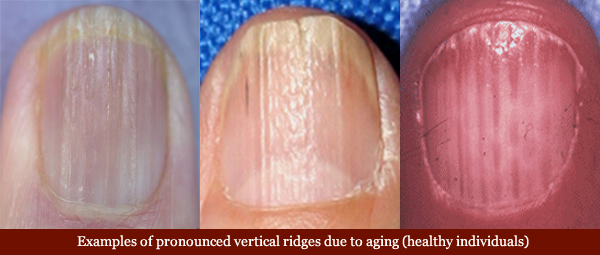 VERTICAL NAIL RIDGE VARIANTS IN MEDICAL DISORDERS
Vertical ridges outside the normal range can be recognized when the longitudinal ridges become very pronounced combined with irregularities in the shape of the ridges & losing the shiny characteristic. Various medical disorders have been associated with abnormal vertical ridge variants, including:
chronic airway disease
, psoriasis arthritis &
Dariers disease
(see the 3 examples below).
But there are many other medical problems that have been associated with vertical ridges (longitudinal striations) - in alphabetic order: alopecia areata, anemia (iron deficiency), arteriosclerosis, atopic dermatitis,
dyskeratosis congenita
,
kidney disorders
, lichen planus, peripheral vascular disease,
rheumatoid arthritis
, SLE, and vitiligo.
NOTICE:
In general, nail disorders are not known for displaying a high validity regarding the specific underlying disease; therefore one should better not address too much value on the characteristics seen in the 3 examples below + the in respective associated diseases.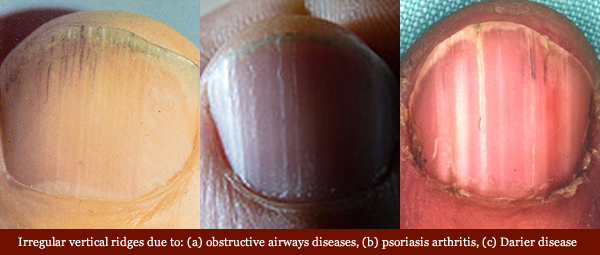 Vertical Ridges in Fingernails: causes, aging & health variations - what do vertical nail ridges mean? One can read a bit more about the difference between vertical ridges and horizontal ridges in fingernails (including causes & treatments) at this article: Fingernail Ridges: A Barometer to Your Health

Discover the Latest News about Hands!


Next major section:
• Yellow fingernails: causes & remedies!
- HAND NEWS DATABASE -

SCIENTIFIC PALM READING: FOLLOW THE GLOBAL DEVELOPMENTS + LINKS TO MANY IMPORTANT ARTICLES






MORE NEWS:
HANDS ON HEALTH CARE!!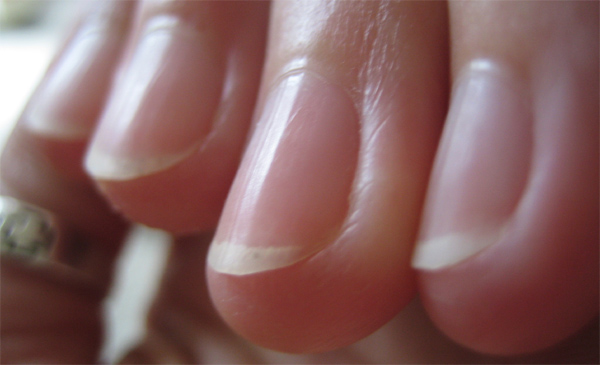 MORE NAIL REPORTS:

• Vertical ridges in fingernails!
• How to recognize nail ridges?
• Nail disorders!
• Diseases in fingernails & toenails!
• The hands of children: longitudinal oblique ridges!
• Nail Tutor: find the cause of your fingernail disorder!
Video: What causes ridges in fingernails?
Video: Do you have these vertical ridges on your nails?
Video: Do you have these horizontal ridges on your nails?
Video: TIP - Removing Fingernail Ridges.
Video: Fingernails show health or disease.