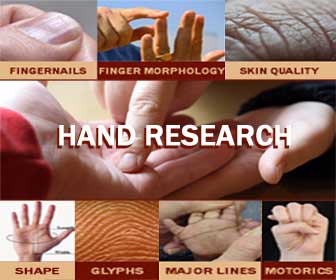 NEW - 26 Jan, 2015:
• Phantom pictures for the hand: Extraverts & Introverts


| | | |
| --- | --- | --- |
| _____ | | HandResearch.com search tool: |
Hand Research: let's explore the advanced concept of
Multi-Perspective Hand Reading & Hand Analysis!
Hand reading (better known as palmistry or palm reading) is today known to represent a 'pseudoscience'. The major argument here concerns a lack of empirical evidence supporting the theories described in the hand reading literature. Usually these theories get at best substantiated with anecdotal evidence, and most authors have made no report at all about the many conflicting theories that are present in the various fields of hand reading/hand analysis around the world. Unfortunately, such anecdotal evidence basically becomes meaningless in the perspective of two conflicting theories. Nevertheless, occasionally hand reading authors & hand readers do claim that scientific reports support their theories about individual hand signs - though one may wonder whether such claims are valid or maybe just another example of anecdotal 'cherry-picking'.

HandResearch.com presents a wide spectrum of hand research projects & reports focused on many facets of hand reading. Results indicate that individual hand signs in general at best bare low specific meaning for any predictive- or diagnostic perspective at all. Hand signs typically tend to bare significance for multiple themes (a likewise trend can be observed regarding the role of the so-called 'minor physical anomalies' in the perspective of medical science). However, results for various major themes do show that combinations of (multi-perspective) hand signs can bare both a high & specific diagnostic value. These observations provide the foundation for a more advanced hand reading/hand analysis concept that is based on basically a new scientific concept that was introduced in the first half of 2011: Multi-Perspective Hand Reading!



Additionally, the course & news sections provide some interesting clues, plus a deeper understanding regarding the significant role of individual hand signs in modern hand reading. Reports are made for a rich variation of themes from psychology, psychiatry & medical science.

The books & network sections provide various opportunities to become familiar with the works & contact details of many individual hand readers (a.k.a. palmists/palm readers/hand analysts) around the world. And the celebrities section provides interesting impressions of the hands of dozens of famous people, sometimes featured with detailed reading hands reports.

Finally, the miscellaneous section provides an opportunity to become aware about the role of hands in life matters that go beyond hand diagnostics and the major theme of this site: how to read hands!


---
- Hand Research Sections in a Nutshell -
Hand Reading Signs
Explore the major hand signs: e.g. hand shape, fingers, lines, fingerprints, nails & gestures!

Hand Reading Course
A scientific hand reading mini-course: how to become an expert hand reader!

Hand Reading News
A scientific hand reading mini-course: how to become an expert hand reader!

Hand Reading Books
A scientific hand reading mini-course: how to become an expert hand reader!

Hand Reading Network
Find 765+ hand readers, palmists, palm readers & hand analysts in 54 countries!

Miscellaneous Hands
How hands get involved in many matters of life; e.g. hand reflexology & hand art!
Hand reading synonyms: hand analysis - palmistry - palm reading - chirology - chiromancy - chirognomy