---
- HAND RESEARCH -
The objective: exploring how to make a proper hand diagnosis according scientific hand diagnostics.
Discover Multi-Perspective Hand Reading & learn how to read hands thoroughly!
Multi-Perspective Hand Reading can be recognized to represent probably the first hand analysis system around the world solely based on scientific research.
Recommendations for further reading:

• Explore the 9 essential perspectives of the hand
used in: Multi-Perspective Hand Reading!
• Find out how your personality manifests in your
hands: Hands Signs in Extraverts & Introverts
Explore the latest hand reading research + hand reading news, plus the significance of hand signs required to make a reliable hand diagnosis.
The global hand reading network presents 800+ palm readers, palmists, chirologists, hand analysts & hand readers from 54 countries around the world.
You might also want to consult the advanced hand reading course, hand reading books section, hand reading websites Top 100 & the celebrities hand reading section.
Try the advanced

G

o

o

g

l

e

empowered
custom search tool for this website!
Find info about many hand reading topics & hand signs with the Google empowered HandResearch
custom search tool (above) which assists you digging efficiently into 2000+ included pages!!!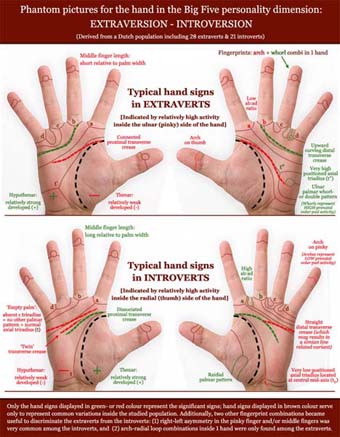 Finally, you can also learn more about hand reading systems (e.g. the roots of ancient Chinese medical palm reading & classic Indian predictive palmistry), and you can use the supplementary section hands & beyond covering a very wide spectrum of topics!