-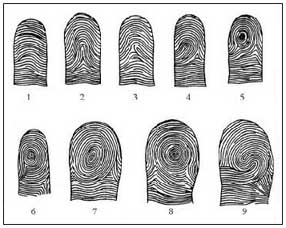 - Figure A-2: Purkinje's fingerprint classification systeem.


- The very first fingerprint classification system was presented in 1823. It was the work of Joannes Evangelista Purkinje(2) - a Tsjech physiologist. Purkinje's system describes the variations among 9 fingerprint types.

- Only a few years later, in 1833 the anatomist Bell2 described the funtionality of the dermatoglyphs: "these give us a firmer grip".