Finger Lengths predict Facial Shape in Young Boys!

February 26, 2012

FINGER LENGTHS PREDICT FACIAL SHAPE IN YOUNG BOYS!
A 2012 study from Wien, Austria reports: prepubescent boys with finger lengths featured with low 2D:4D digit ratio typically have smaller and shorter foreheads, thicker eyebrows, wider and shorter noses, and larger lower faces - all features of a characteristically masculine face.

Did you know that the average human male face differs from the average female face in size and shape of the jaws, cheek-bones, lips, eyes and nose? Hands are keys to the past, even if there isn't much past to tell. A glance at a boy's digit ratio 'the relative length of index to ring finger' shows if he was exposed to high testosterone levels before birth. These testosterone levels even lead to "manlier" faces, even before the boy hits puberty, the research suggests.

In 2005 a study by Fink et al. revealed that prenatal determined 2D:4D ratios and operate differently on faces in males and females: 2D:4D finger ratios appear to affect male and female face shape by similar patterns, but the growth patterns are three times more intense in men than in women.

In february 2012 a new study reported from Wien confirmed strong growth pattern relationships: finger lengths explaining 14.5% of shape of face variation - see the illustration below.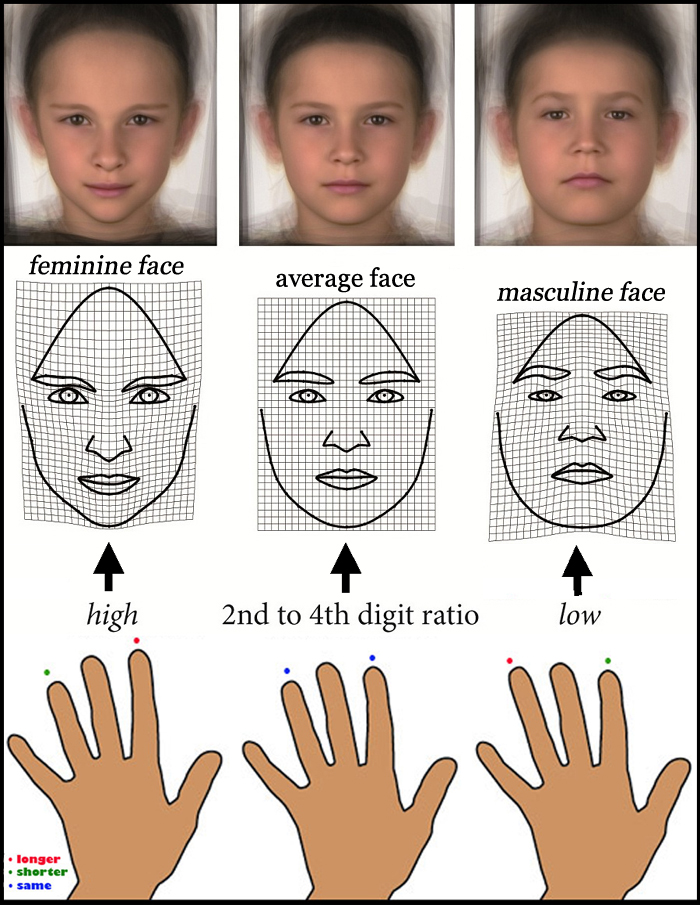 Sonja Windhager, an anthropologist at the University of Vienna and one of the reseachers, described:
"The overall shape patterns associated with high and low digit ratios depicted in our sample of boys closely resemble the ones found for adult men"
.
Livescience
reports:
"Previous studies of digit ratio and adult male faces indicated that the lower the ratio (and therefore the higher the testosterone levels during development) the more "robust" the man's face is, the study researchers said. This work suggests this robust and masculine face is already present before puberty, since prepubescent boys with low digit ratio have features of a characteristically masculine face."
The summary of the 2012 study is available at
Proceedings of the Royal Society
.
2005 STUDY: 'Second to fourth digit ratio and face shape'
The 2005 study e.g. reports:
"Visualization of the shape regression on 2D:4D ratio (averaged among both hands) within males. The middle face with an undeformed square grid is the average landmark configuration and corresponds to the average digit ratio for males. The right grids show deformations from the mean face to faces that are predicted for higher 2D : 4D ratios (0.068=2s.d. and 0.136=4s.d., respectively, higher than the average). The left faces correspond to low 2D : 4D ratios (-2s.d. and -4s.d.). The 4s.d. values are outside the data range."
The 2005 study is available at
Proceedings of the Royal Society
.


Finger Lengths predict Facial Shape in Young Boys!

Discover the Latest News about Hands!
- HAND NEWS DATABASE -

SCIENTIFIC PALM READING: FOLLOW THE GLOBAL DEVELOPMENTS + LINKS TO MANY IMPORTANT ARTICLES






MORE NEWS:
HANDS ON HEALTH CARE!!

MORE FINGER LENGTH IN SPORTS REPORTS:

• Finger Lengths predict Facial Shape in Young Boys!
• Finger length & sexually facial characteristics!
• 2nd to 4th digit ratio, testosterone & male dominance!
• Height, digit ratio (2D:4D) and sex differences!
• More studies on finger length & sexuality!

Video: Celebrity face shape & yours.

Video: Measuring facial shape.