Hosanna ... a Palm Sunday hand reading!
- NOTE: Palm Sunday is known as the Christean feast on the sunday before eastern -
APRIL 5, 2009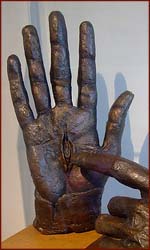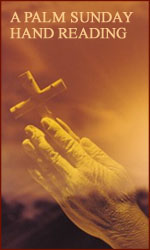 Including: hands related bible quotes, bible art, and a tribute to the work of pastor Larry Wood: 'Hands in scripture' - which includes a new paradigm for spiritual thinking based on the hand.
---
FAMOUS BIBLE QUOTES ABOUT HANDS
The most famous Bible quote related to the human hand is likely JOB 37-7 (King James Bible, KVJ):
"He sealeth up the hand of every man; that all men may know his work."
Another famous hand-related Bible quote is ISAIAH 49:16 (King James Bible, KVJ):
"Behold, I have graven thee upon the palms of [my] hands; thy walls [are] continually before me."
---
PALM SUNDAY HAND RITUALS
Elx (Spain) has the location of the biggest palm grove in Europe; on Palm Sunday there is a tradition of tying and covering palm leaves to whiten them away from sunlight and then drying and braiding them in elaborate shapes.
A Spanish rhyming proverb states:
"Domingo de Ramos, quien no estrena algo, se le caen las manos"
["On Palm Sunday, the hands drop off of those who fail to wear something new"].
---
BIBLE ART: THE HANDS OF JESUS CHRIST
• "The hands of the risen Christ" - by: US sculptor Jacob Epstein (1880-1959)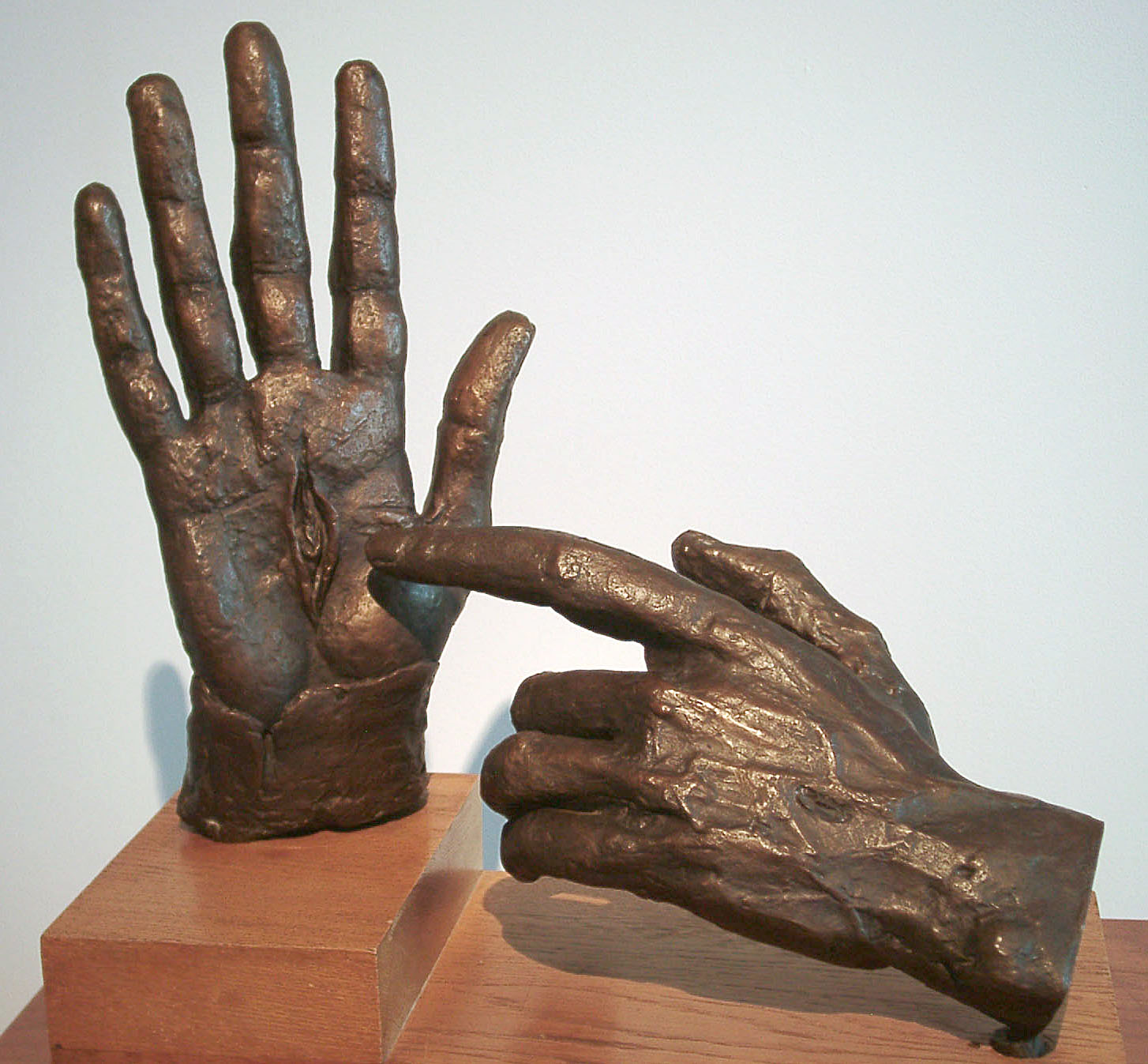 • "The hand of Christ" - by: Italian sculptor Enzo Plazzotta (1921-1981)
---
'HANDS IN SCRIPTURE': A NEW PARADIGM FOR SPIRITUAL THINKING

Created by: pastor Larry Wood
Pastor Larry Wood writes in the preview of his 'Hands in Scripture':
"The human hands as the creation of God are full of symbolic meaning. God made the hands and placed His stamp of approval upon them. He gave each hand a unique identity. No two sets of fingerprints are the same. But do the fingerprints reveal anything other than strange patterns? Each hand has 5 fingers, the number for grace."

"There are strange lines in the palm, which are similar in everyone, and yet with subtle variations. There are a multitude of marks in the palm. Some appear to be symbols of crosses, pits, mounds, spots, and circles. Is there intelligence in these markings? What do they mean? Did God intend for us to understand our own hands?"

"The hands are full of meaning that can be readily understood, once a vocabulary and analytical methodology is established."
| | | |
| --- | --- | --- |
| PICTURE 1: the hand of Christ | PICTURE 2: the fingers | PICTURE 3: the Lord's hand in the Tabernacle |
---
Pastor Larry Wood writes in the chapter 'Reason for Studying Hands':

"The understanding of the lines and parts of the hand were clearly understood by Job and Isaiah. The LORD invented palm reading - not the devil (Isaiah 49:16). Jerusalem was engraved in the hand of Nebuchadnezzar (Ezekiel 21:22). Neither of these verses can be understood without an understanding of hands. "
Sources: www.biblenews1.com, Flickr.com & flickr.com
Read more related articles:
Gift markings in your hand
The simian crease: a notorious hand line
Palm reader Ron Sissman looks for signs of client's inner life
A career in Palmistry
Cosmos to draw crowd at World Book Fair
Palm Sunday: be aware of the symbolism!
Palm Sunday bible hand reading: hands in scripture